Kitchen vastu- its significance, guidelines and vastu remedies.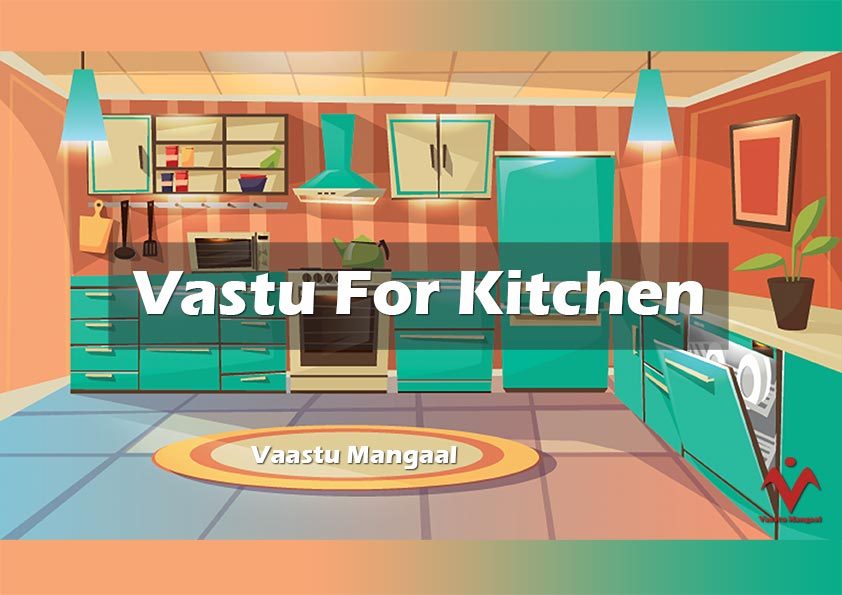 No vastu for home is complete without Kitchen vastu. No matter how much you spend on the design and furnishing of the kitchen area, without Kitchen vastu you cannot utilize the benefits of the same.
In this blog, we will explore all the important aspect of Kitchen vastu. We will begin with begin with understanding the importance of kitchen area, followed by the significance of Kitchen vastu.
Then we will cover the most basic and important vastu guidelines of the kitchen vastu, followed by listing some vastu mistakes to watch out for.
In the end we will answer some of the most commonly asked questions regarding this topic by people. So, let us begin.
What is the significance of Kitchen area as per vastu shastra?
Each part of the home represents something important. The kitchen is considered as the most sacred section of the home, right after the puja room.
We seek blessings from Ma Annapurna, the goddess of food and nutrition, as we prepare daily meals in it. Kitchen is the area where we cook our food.
So, it represents food, satiation and also nourishment. With food, not only we satiate hunger, but also keep illnesses at bay. It also gives energy and strength to carry out our daily tasks with the help of good food.
Moreover, from the perspective of vastu shastra, the kitchen also represents the fire element. Fire is one of the panchatatva (the rest are air, water, earth and space).
Thus, its right placement is of utmost importance. If it is placed in perfect balance, only then it brings the vastu benefits of Fire.
In case it is not done so, it might bring catastrophic result in the form of accidents. Most of the fire incidents that happen in residential spaces arise in the kitchen area.
Of course, lack of caution is one of the reasons for it; but vastu experts shares that many of such properties lack vastu compliant kitchen area.
Kitchen vastu- its significance, guidelines and vastu remedies
Click To Tweet
What is the significance of kitchen vastu?
The significance of Kitchen vastu is unparallel. With the right vastu, you can improvise not one but both these aspects as mentioned earlier.
A vastu complaint kitchen channels the positive energy; and gets rid of the negative ones that get built in it.
Read more- importance of kitchen vastu
As a result, you can stay in good health and keep the bad energies that tend to cause some illness. It also helps minimizing the risks of having fire-related hazards in the home.
Apart from these aspects, a non vastu compliant kitchen has found to bring financial burden, legal issues, and family dispute etc.
So, it is highly recommended to seek Kitchen vastu for every household out there. In fact, vastu experts also recommend having a vastu compliant kitchen and pantry area in commercial spaces as well.
What comes under kitchen vastu?
By now, you know that vastu for home, comprises of right placement of various sections of the home and its furnishings, right!
Read more- best vastu guidelines for home
The vastu for kitchen is similar in that aspect. It comprises of the right placement of various sections of its space and furnishing.
It primarily begins with the right placement of kitchen in the home. Then it includes the suitable placement and guidelines of the oven, cylinder, other appliances, refrigerator, storage cabinet, wash basin, windows and so on.
Kitchen vastu also includes the selection of right color for painting the interiors of the space.
Overall, Kitchen vastu aims to make this area perfectly aligned with the cosmic energies.
Kitchen vastu guidelines
Let us check out the vastu guidelines of kitchen space, as offered by expert vastu consultants in Kolkata.
   1.Placement of kitchen
Vastu Shastra acknowledges the south east direction to be the zone of fire element. Thus, the best direction to place the kitchen is in the south-east zone of the house.
In case it is not available, you can also consider the north-west direction for the same. But make sure to avoid placing the kitchen area in the zones of north, north-east or south-west.
It has been found to bring tension in the family and creating dispute among family members.
Also, never position the bathroom and kitchen as adjutant to one another. Doing so is considered as a vastu defect
   2.Placement of gas cylinder and oven
Remember that, all the cooking appliances are considered as fire element. So, let it be gas oven or microwave oven, their guidelines are the same.
Just like the previous one, the gas cylinder and over must be kept in the southeast zone of the kitchen. Place these in such a manner that you need to face the east while using them or cooking.
   3.Placement of the electric gadgets
These days, you will hardly find a home without any kitchen appliances. Our kitchens are loaded with electric appliances.
So the placement of these as per vastu matters too. Place gadgets like toasters, coffee machine, rice cooker, mixer-grinder, etc on the south east corner as well.
Avoid keeping them in north east corner as it can lead towards malfunctioning of these appliances.
   4.Placement of the water structures
Placing a sink in the kitchen as per vastu is very important as it represent the water element in the area.
Read more- vastu of water holding structures in home
To make sure they don't counteract with one another, make sure never to place it in the same zone as that of oven. Also try not to have them placed parallel to one another.
Doing so can bring domestic conflict in the home and cause fights between spouses.
For best result, place them in the north side or northeast corner of the kitchen. In case the sink and stove are placed closely, keep a vase made out of bone china in between.
Also, place the kitchen dustbin under the kitchen sink to minimize the spread negative energy. Dispose the garbage regularly and clean the dustbin routinely.
In case you use filtered water or treated water for kitchen uses; place the water purifier or water storage jar/bottles in the north east zone as well.
Also, the channels of kitchen drain and water pipes must be as per vastu rules.
   5.Right placement of refrigerator
Almost every household has a fridge to store eatables. Let it be dairy products, veggies and prepared leftover food; we keep them in the fridge for keeping them fresh and good.
To make it vastu complaint, place it in the south-west zone. This helps to remove hindrance from your life. But you can place it in other corners as well, except north east.
   6.Right placement of the storage cabinet
We all keep some extra eatables in our homes as reserve. This cabinet must be kept in the south west zone of the kitchen. Doing so will bring prosperity and good luck in the lives of the residents.
In case you don't have any separate cabinet for storage food items; you can arrange the storage containers, neatly, in the said direction.
   7.Placement of utensils
Vastu shastra always recommends keeping the kitchen free of cluttering. So, organize all the utensils neatly in either cabinet or in utensil basket and place it in either south or west sides of the kitchen.
Also, in case there is any broken china or glassware; try to dispose it at the earliest. Keeping broken things can cause spread of the negative energy in the home.
   8.Placement of the windows and exhaust fan
Having a window and exhaust fan in the kitchen is crucial. It helps to channel out the negative energy and toxic gas that gets produced in the kitchen.
Windows also facilitate exposure to natural daylight during the day. Always keep them open during cooking and other times as well, if possible.
Vastu experts recommend having a couple of windows or exhaust fan on the eastern side of the kitchen. For the installation of electric chimney, go for the south zone.
Kitchen vastu- its significance, guidelines and vastu remedies
Click To Tweet
Color vastu guidelines for the kitchen
Vastu shastra highly regards the role of colors in determining the overall vastu of the property. For the kitchen area, it is best to use Light colors. Light Pink, orange and red; though green can be considered as well. (For South-East Kitchen)
These colors not only uplift the kitchen vastu but also evoke hunger. This is the reason why you will find most restaurants using these for their themes as well.
Try to avoid using dark colors like black, grey, Blue etc for the kitchen area. It affects its vastu and makes the ambience gloomy.
Materials guidelines for kitchen as per vastu
Picking the right materials for the kitchen area is very crucial for perspective of both safety and vastu.
Wooden and marble floor are recommended for best result. Installing ceramic tiles works fine as well.
Open vs closed kitchen areas as per vastu shastra
As the terms itself reflects, closed kitchen are designed as a separate section of the home. Open kitchen are the ones that are blended with the living room.
In earlier days, kitchen area (and also toilets) was made isolated from the rest of the house, as it produces negative energies and harmful gases.
But these days, most of the building architecture promotes open kitchen space for better utilization of the space.
People often wonder which kitchen design among them is better from the perspective of vastu shastra.
Well, open kitchen does promote generating and spreading some negative energy within the home. But it can be fixed quite easily with simple vastu remedies.
 By installing a suitable painting or a small partition like structure can negate all the ill effects and make it perfect kitchen vastu.
Some FAQs about kitchen vastu and their answers
There are lots of enquiries about kitchen vastu among people. We have picked some of the most Frequently Asked Questions (FAQs), for which we are offering answers, as offered by our experts.
Ans- Bright colors like Pink, Green and red are highly recommended by vastu exerts for kitchen.
Ans- Yes, a west side kitchen is also considered ideal as per vastu.
Ans- yes, even though it is believed to bring some negative prospects in the home; it can be fixed effectively by small vastu remedies.
Ans- Since a gas stove (or even a microwave oven) is considered as fire element, it is best placed in the south-east zone of the kitchen.
Ans- Vastu experts considers south-east to be the most suitable zone for placing the kitchen.
Do you have any queries about kitchen vastu as well? Don't forget to send us your query at Vaastu Mangaal.
In case you are about to build your new home, you can make it perfectly as per the vastu guidance as shared in this blog.
But what if you already have a non vastu complaint kitchen? Relax; you don't need to switch homes.
Read more- what to do for non-vastu compliant homes
Just make those rearrangements that you can. For the rest, rely on expert vastu guidance.
They offer alternative remedies or install vastu items or money plant in a suitable section of the kitchen. It makes the space vastu compliant
Read more- significance of money plant vastu
Kitchen vastu- its significance, guidelines and vastu remedies
Click To Tweet
Kitchen vastu – conclusion
Thus, in a nutshell, it is clear that kitchen is an integral part of every household. Its vastu plays a crucial role in making sure that we get the best benefits of the space.
It brings health, prosperity and positivity in the home and its occupants.
To know more about kitchen vastu or to avail the same, reach out to the best vastu consultant in Kolkata, Mr. Pinaki Pal, only at Vaastu Mangaal.
At Vastu Mangaal, we address kitchen vastu of both new and old properties. We offer the best kitchen vastu guidance and tips that requires no demolition of the house. 
Kindly share this blog with your friends and family to help them have a clearer understanding of Kitchen vastu.